Win the chance at a million dollars!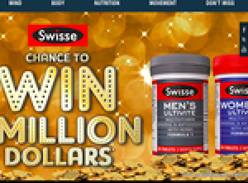 Swisse
Added: 14-Jan-14
Closes: 19-Jan-14
PROMOTION PERIOD

The Promotion will commence 00:01 AEDT on 16/12/2013 until 23:59 AEDT on 19/01/2014 (Promotion
Period).

Entry in the Promotion is only open to Australian residents aged 18 years and over excluding:

(a) management, employees, directors and contractors of the Promoter, its related entities, the Participating Outlets and other agencies, firms or companies associated with the Promotion (including suppliers of the Prize);
(b) a spouse, de-facto spouse, parent, guardian, child or sibling of a person referred to in paragraph 9(a) of these Conditions of Entry;
(c) persons who have breached the terms and conditions of any promotion run by or on behalf of the Promoter.

HOW TO ENTER

To enter and be eligible to win, Eligible Entrants must, during the Promotion Period, purchase any Swisse product (Eligible Products) from a Participating Outlet (Qualifying Purchase) and complete their entry in accordance with these Conditions of Entry (Eligible Entry).

Entry is via the Internet (Web Entry).

Eligible Entrants can complete their Eligible Entry during the Promotion Period by:
(a) visiting www.swisse.com and following the links to the Promotion entry page (Online Entry Site);
(b) fully completing and submitting the online Promotion entry on the Online Entry Site (Online Entry Form), including:
i. all details required on the Online Entry Form, including their first name, last name, postal address, contact phone number and email address;
iii. the last three (3) digits of the receipt number corresponding to the Qualifying Purchase;
iv. indicating their acceptance of these Conditions of Entry.

PRIZE DRAW AND INFORMATION

A random electronic Prize draw will be conducted at Prime Focus, 403/62 Beach Street, Port Melbourne, Victoria 3207 (Draw Location) by a representative of the Promoter at 12 noon AEDT on 29/01/2014 (Prize Draw).
The first Eligible Entrant with a valid Eligible Entry drawn will win the opportunity to play the Game as defined in paragraph 27 of the terms & conditions (Drawn Participant) for the chance to win AUD $1,000,000 (Prize).