Win a Kinchrome Toolbox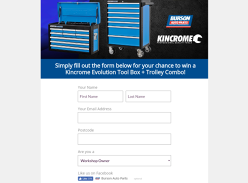 Burson Auto Parts
Added: 23-Oct-19
Closes: 10-Nov-19
Information regarding how to claim your gift with purchase, how to enter the draw and details of the gift with purchase form part of these conditions of entry. Entry into this promotion is deemed acceptance of these conditions of entry.
The Promoter is, Burson Automotive Pty Ltd (ABN: 92 602 922 485) of 61 Gower Street, Preston, Victoria, Australia 3072.
Entry is only open to Australian residents aged 18 years and over. Directors, management and employees of the Promoter, its related companies and agencies, the immediate families of the above listed persons, and directors, management and employees of companies, business or individuals associated with this promotion are ineligible to enter. The redemption offer is only open to end-consumers and is not open to wholesale or trade re-sellers.
The Promotion will be open from 3.30pm Australian Eastern Standard Daylight Time on the 11th October 2019 and will continue until 11.59pm Australian Eastern Standard Daylight Time on the 10th November 2019 ("Promotion Period").
To be eligible, eligible entrants must provide details of each field required on the Woobox entry page. Entries received after such deadline shall be disqualified. Only one entry per person is permitted. The winner will be selected at random by use of electronic draw.
Entrants can only enter in their own name and use their own personal details. The Promoter reserves the right to request winners provide proof of age, identity and/or proof of entry validity. Proof of age, identification, and entry considered suitable for verification is at the discretion of the Promoter. The Promoter reserves the right to validate and check the authenticity of any prize claim or entry before awarding a prize.
The Promoter takes no responsibility for late, lost or misdirected entries or for any delays or failures in any telecommunications services or equipment.
Prize: 1 x Kincrome Evolution Tool Box + Trolley Combo!
The value of the prize is $768 RRP (including GST).
The prize, including any unused portion, is not transferable or exchangeable and cannot be taken as cash unless stipulated otherwise.
If a winner chooses not to redeem the gift with purchase item or any component of it (or is unable to), the item is forfeited, and the Promoter is not obliged to substitute the prize or any component.
The Promoter accepts no responsibility for any variation in the value of the gift with purchase item. The Promoter accepts no responsibility for late, lost, damaged or misdirected gifts once the gift has left the Promoters premise.
Programming and other quality control errors will not invalidate an otherwise valid prize claim. Unless otherwise due to fraud or ineligibility under these Terms and Conditions, all prize claims in excess of the advertised prize pool will be honoured.
Except for any liability that cannot be excluded by law, the Promoter (including its officers, employees and agents) excludes all liability (including negligence), for any personal injury; or any loss or damage (including loss of opportunity); whether direct, indirect, special or consequential, arising in any way out of the Promotion, including, but not limited to, where arising out of the following: (a) any technical difficulties or equipment malfunction (whether or not under the Promoter's control); (b) any theft, unauthorised access or third party interference; (c) any entry or prize claim that is late, lost, altered, damaged or misdirected (whether or not after their receipt by the Promoter) due to any reason beyond the reasonable control of the Promoter; (d) any variation in prize value to that stated in these Terms and Conditions; (e) any tax liability incurred by a winner or entrant; or (f) a prize.
The winner may be required to provide the Promoter with certified copies of all required documentation before the prize is handed over. The winner will be informed of the documentation required at time of notification of winning.
All entries become the property of the Promoter. All entries will be entered into a database and the Promoter shall be entitled to use entries, and all personal information contained therein, in any way that it considers appropriate for this promotion. By entering the promotion, entrants confirm that they allow their details to be used for this purpose. Any request to update, modify or delete the entrant's details should be directed to the Promoter.
The winning entry for the prize will be selected at 11:00am AESDT on Monday 11th November 2019 at DBC2 Pty Ltd, 13/2019 Enterprise Drive, Bundoora, VIC 3083. If the winner is unable to take the prize a new winner will be selected. Winners details will be published on the Burson Auto Parts Facebook page for a minimum of 28 days.