Win a $50,000 home renovation + a one-on-one consultation with the stars of 'The Block'!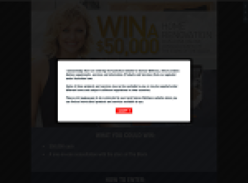 Swisse
Added: 10-Nov-15
Closes: 13-Dec-15
WHO CAN ENTER?

Entry to the Promotion is open to all Australian residents, aged 18 years and over, who fulfill the entry requirements. The entrant is responsible for ensuring his or her familiarity with the terms and conditions at the time of participation.

Must be aged 18 years or over and a resident of Australia Directors, management, employees, officers and contractors (and their immediate families) of the Promoter or of the agencies or companies associated with this Promotion are ineligible. "Immediate families" means spouse, partner, parent, natural or adopted child, and sibling (whether natural or adopted by a parent), whether or not they live in the same household as the director, manager, employee, officer or contractor.

HOW TO ENTER:

To enter, an entrant must, during the promotional period:

1. Purchase any Swisse product(s) in one transaction from any of the following participating stores in Australia (Qualifying Purchase):
a) Chemist Warehouse
b) My Chemist
c) Discount Vitamin Warehouse Pharmacy
d) Chemist Warehouse online store (www.chemistwarehouse.com.au)
e) ePharmacy online store (www.ephrmacy.com.au)

2. Then visit Swisse.com/au and follow the prompts on the promotional entry page and input requested details (including but not limited to first name, last name, email address, favourite Swisse product purchased, where did you hear about this competition);
3. Submit the fully completed online entry form;
4. Retain a copy of your purchase receipt for all entries as proof of purchase.

PRIZE:

The major prize includes the following:

• $50,000 cash
• A one-on-one consultation with a star of The Block at the winner's home (valued at up to $10,000)

Total major prize is valued at up to $60,000 (inc GST).