Win a $250 VISA Gift Card & Thriller Book Pack or 1 of 5 Thriller Book Packs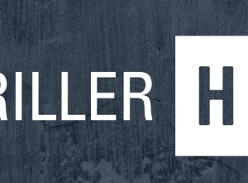 Harlequin Enterprises
Added: 01-Jan-21
Closes: 31-Jul-21
Promoter
Harlequin Enterprises (Australia) Pty Limited

ABN: 47 001 180 918 of Level 13, 201 Elizabeth Street, Sydney, New South Wales, Australia.

Website
(Clause 1) https://www.harpercollins.com.au/hqcompetitionwinner/
Entry Restrictions (Clause 4)
1. Entry to the Competition is open to: all residents of Australia and New Zealand

2. If an entrant is under 18 years of age, they must obtain the permission of their parent or guardian before entering this competition.

Competition Period (Clause 5) Commences: 9:00am AEST on 1st October 2020
Ends: 11:00pm AEDT on 31st July 2021
Entry Details (Clause 6)
To enter, entrants must:

Answer, in twenty-five words or less, the following question: What makes the perfect thriller?
Maximum Number of Entries

(Clause 7)

One per person
Judging Details (Clause 8) The entries that are judged by the Promoter's panel of judges to be the best, most original and creative will each win the prize. Chance plays no part in determining the prize winners.
Prize

(Clause 9)

The 1 prize winners will receive:

1st prize: $250 visa gift card + 6x HQ Thriller book pack

Runners-up (5): 6x HQ Thriller book pack

Prize

No. Of Prize Available

Value (incl. GST)

$250 VISA gift card | 1 available | $250 value

6x book pack | 6 available | $1080 total value

Total Value: 1330



Prize Restrictions (Clauses 10 - 18) In the event that any of the prizes become unavailable, the Promoter reserves the right to provide a similar product to the same or greater value as the original prize, subject to any applicable laws or written directions made under applicable legislation.
Winner Notification (Clause 19) Unless advertised differently, the prize winners will be notified by phone, email and/or mail at the end of the competition period and by no later than 10/09/2021 and posted on www.harpercollins.com.au/hqcompetitionwinner/
Rights in Your Entry

(Clauses 20 - 24)

A non-exclusive, irrevocable, royalty-free licence.