Win 1x $250 Westfield Gift Card, 1x $150 Rebel Gift Card or 1x $150 Amazon Gift Card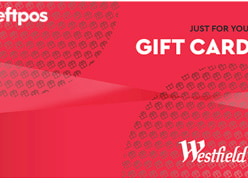 PlaySport
Added: 08-Nov-21
Closes: 30-Nov-21
1. By submitting your entry, entrants will be deemed to have read and understood these terms and conditions and are bound by them.
2. The promoter is PLAYSPORT DIGITAL PTY LTD ('Promoter', 'we', 'us') ABN: 13 640 036 282 Address: 3 Tipper Ave, Bronte, NSW, 2024
3. Any updates to these Terms and Conditions will be subject to regulatory approval, and will be published on our website www.playsport.com/ps/warm-up-for-summer
4. It is the responsibility of the entrant to inform themselves regarding any changes that may apply to these Terms and Conditions and to be aware of the terms and conditions.
Eligibility
5. The eligibility requirements for this Promotion are set out in the Entry Restrictions and Entry Procedure.
Entry Restrictions
6. To enter, you must follow the Entry Procedure:
A single entry into the draw will be granted for subscribing to the PlaySport Newsletter through submission with Name and Email on the competition home page.
Additional entries can be earned for increased participation:
+2 entries for telling The Promoter in 150 words or less how you're keeping active to #WarmUpForSummer
+10 entries for sharing a photo or video showing how you're keeping active to #WarmUpForSummer creatively staying active at home.
+2 entries for each friend who enters the competition using your unique referral link (up to a maximum of 10 entries)
7. The competition will run from 12:00AM on 05/11/2021 to 11:59PM on 30/11/2021. Any entries submitted outside of this time period will be deemed ineligible.
8. Entry is open to residents of Australia. Employees of the Promoter and their immediate families, suppliers, associated companies and agencies are ineligible to enter. Persons under the age of 18 years must have consent by their parent or legal guardian to partake the competition. If a winner is discovered to be under 18 and has not had consent from their parent or legal guardian to partake in the competition, they will automatically be disqualified.
9. Entrants may only use one unique email address to enter into the competition. Entries where the same individual is found to be using multiple email addresses will be deemed ineligible.
10. The Promoter reserves the right to disqualify any entry in the event of non-compliance with these Terms and Conditions or if, in our reasonable opinion, an entrant tampers or interferes with an entry mechanism in any way.
Prizes
11. The prizes for the competition are as follows:
1x $250 Westfield Gift Card
1x $150 Rebel Gift Card
1x $100 Amazon Gift Card
12. All costs, fees, charges or expenses associated with the prize, which are not specified in the Schedule, are the responsibility of the winner.
13. No prizes are exchangeable, transferable or redeemable for cash
How winners are chosen and notified
14. Competitions are games of chance and as such, winning entries are selected randomly
15. One draw will be conducted for each prize using a random number generator on random.org. Prizes will be drawn at 2:00PM on 01/12/2021.
16. The Promoter will notify the winner of each prize by email from
[email protected]
How to claim prizes
17. If (having made reasonable efforts) we cannot contact a prize winner within 30 days of the draw, we will conduct an Unclaimed Prize Draw to draw a new winner. This process will be repeated until all prizes have been claimed.
18. The Promoter will pay all postage and handling fees to addresses within Australia.
19. If you are a winner, you are responsible for your use of the prize, including complying with all relevant laws and any applicable terms and conditions of use.
Promoter's use of entries and personal information
20. On submission, entries become the property of the Promoter. By entering this Promotion, you consent to us using your entry in any media for an unlimited period without compensation for the purpose of promoting this Promotion (including any outcome), and promoting any products manufactured, distributed and/or supplied by us.
21. We will email an entrant first before we use their content, letting them know that we will be publicising it. If the entrant explicitly asks for their content/entry not to be publicised, we will acknowledge this and as a gesture of goodwill we will not publicise their content.
22. By participating in this Promotion, you understand and agree that the Promoter or any of its subsidiaries may use and disclose the personal information provided by you for the purpose of conducting the Promotion and for any of the purposes set out in the PlaySport Privacy Policy (available at www.playsport.com/privacy/). PlaySport Digital Pty Ltd may use your personal information for direct marketing purposes.
General Terms
23. The Promoter will not accept entries which are deemed ineligible.
24. If the Promotion cannot run for reasons beyond our control (for example, infection by computer virus, mobile network failure, bugs, tampering, unauthorised intervention, fraud, or technical failures), we reserve the right to cancel, suspend, modify or terminate the Promotion (subject to regulatory approval).
25. All decisions made by us regarding any aspect of the Promotion are final, and no correspondence will be entered into.
26. We accept no responsibility or liability for any problems or technical malfunction of any communication network or for any late, lost, incomplete, incorrectly submitted, delayed, illegible, corrupted or misdirected entries, claims or correspondence whether due to error, omission, alteration, tampering, deletion, theft, destruction, transmission interruption, communications failure or otherwise. We have no control over telephone communications, networks or lines and accept no responsibility for any problems associated with them, whether due to traffic congestion, technical malfunction or otherwise. We are not liable for any consequences of user error including any costs incurred.
27. You acknowledge that there may be inherent risks in some aspects of the Promotion or the prize and that participation in the Promotion or the prize may involve participating in dangerous activities. By entering this Promotion and/or accepting the prize, you accept that risk for yourself and for your companion(s) (if applicable). The Promoter does not encourage winners to participate in activities that are deemed dangerous.
28. You will be responsible for any tax liability associated with a prize.
29. To the extent permitted by law, we will not be held liable for any loss or damage whatsoever (including direct or consequential loss) or personal injury suffered or sustained in connection with the prizes or this Promotion.
30. We are not responsible or liable for use of a prize which results in:
loss that was not reasonably foreseeable;
loss that was not caused by our breach of these Terms and Conditions or by our negligence;
business losses (such as lost data, lost profits or business interruptions) or loss suffered by non-consumers;
losses caused by factors which could reasonably be considered to be outside our control (such as faults
in third party equipment); and
any loss caused, or contributed to, by an entrant's breach of these Terms and Conditions or an entrant's negligence.
31. The Promoter is not liable in any way for any costs, expenses, damages, liability or injury arising out of or in any way connected with the competition or prizes, other than those costs and expenses specifically provided for in the prize
32. These Terms and Conditions are governed by the laws of each of the relevant jurisdictions of Australia in which the
competition is operated.