Win 1 of 3 Overseas Trips & More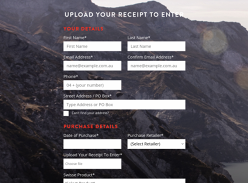 Swisse
Added: 04-Aug-19
Closes: 30-Sep-19
1. This Promotion is run by Swisse Wellness Pty Ltd (ACN 004 926 005).
2. Information on how to enter, mechanics of entry and prizes form part of these Conditions of Entry. Entry into the Promotion is deemed acceptance of these Conditions of Entry. Entry is via Internet only.
PROMOTIONAL PERIOD
3. The Promotion commences at 00:01am (AEST) for Australian residents (02.01am NZST) for New Zealand residents) on 29/07/2019 and concludes at 11:59pm (AEST) on 30/09/2019 for Australian residents (01.59am (NZST) for New Zealand residents on 01/10/2019) (Promotional Period).
ELIGIBILITY
4. Entry is only open to residents of Australia and New Zealand aged 18 years or older who in the event that their entry is drawn as a winning entry, are able to travel to and remain in the country of their chosen Swisse Expedition for seven (7) nights during the Redemption Period (inclusive) in order to participate in the prize as set out in Condition 22 (Entrants).
5. The directors, management and employees (and their immediate families) of the Promoter, its related entities, printers, suppliers, providers and agencies whom are directly associated with the conduct of this Promotion are ineligible to enter the Promotion.
HOW TO ENTER
6. To enter the promotion, Entrants must, during the Promotional Period:
a. purchase one (1) Swisse branded product (excluding Swisse Ultiboost Iron) (Eligible Product) in a single transaction from any authorised Australian or New Zealand stockist (Participating Retailer) during the Promotional Period (Eligible Purchase);
b. retain the original purchase receipt (Proof of Purchase); and
c. access www.swisse.com.au/swisseexpedition for entrants in Australia, and www.swisse.com/swisseexpedition for entrants in New Zealand (as applicable) (each, the Promotional Website) and follow the prompts to correctly complete and successfully submit the online entry form in the manner required.
(together, an Entry).
7. An Entrant may only submit one (1) Entry per Eligible Purchase. Multiple Entries are permitted (up to a maximum of four (4)), however each Entry must be based on a separate Eligible Purchase, submitted separately and must independently comply with these Conditions of Entry.
8. The purchase of an Eligible Product entitles the Entrant, subject to these Conditions of Entry, to one (1) Entry into the Major Prize Draw and, while there are prizes remaining,
a. for Entrants from Australia, the opportunity to collect an Instant Win Prize; and
b. for Entrants from New Zealand, the opportunity to win a Minor Prize.
9. Upon submitting a valid Entry, Entrants from Australia will immediately be notified onscreen on their computer or mobile device whether or not they are an instant winner. All Entrants will receive confirmation in writing (via email) confirming their Entry into the Major Prize Draw, and the details of the Instant Win Prize for Australian Entrants (if an instant winner), and the details of Minor Prize for New Zealand Entrants (if a Minor Prize winner). This is a game of chance and winners will be determined at random and not by the use of any skill.
10. Selection of Eligible Products is subject to availability at each Participating Retailer and based on reasonably anticipated demand. The Promoter accepts no responsibility for any Eligible Products being unavailable at a Participating Retailer during the Promotional Period.
11. Each Entrant must retain and may be required to present their original Proof of Purchase (valid receipt) of each Eligible Purchase in order to claim a prize. If an Entrant is unable to provide Proof of Purchase for all Entries made within the required timeframes, then all the Entries of that Entrant will be ineligible and deemed invalid.
12. Entries will be deemed accepted at the time of receipt by the Promoter and not at the time of transmission. Entries received will be considered final by the Promoter. Incomplete, inaccurate, erroneous, ineligible or incomprehensible entries will be deemed invalid. Entries must be received during the Promotional Period, otherwise the Entry will be deemed invalid. The Promoter accepts no responsibility for late, lost or misdirected entries. Contact details entered incorrectly by an Entrant will deem their Entry invalid.
13. The use of any automated entry software or any mechanical, electronic or other means that allows an Entrant to automatically enter repeatedly is prohibited and will render all Entries submitted by that Entrant invalid.
MINOR PRIZE DRAW - NEW ZEALAND ONLY
14. For the purpose of determining Minor Prize winners for Entrants from New Zealand, the draw will be conducted at 10.00 am (AEST) on 02/10/2019 at M&C Collective at 23 Norton Street, Leichardt NSW 2040.
15. Following the relevant draws and subject to winner verification, the winners' details will be published on the Promotional Page on 18/10/2019 and will remain on the Promoter's website for no less that twenty-eight days. All reasonable steps to notify winners will be taken by the Promoter. The Promoter's decision is final and no correspondence will be entered into.